YOU can join the thousands of others who have already donated to help make this award-winning screenplay into a film that spreads love & raises awareness for people with Down syndrome.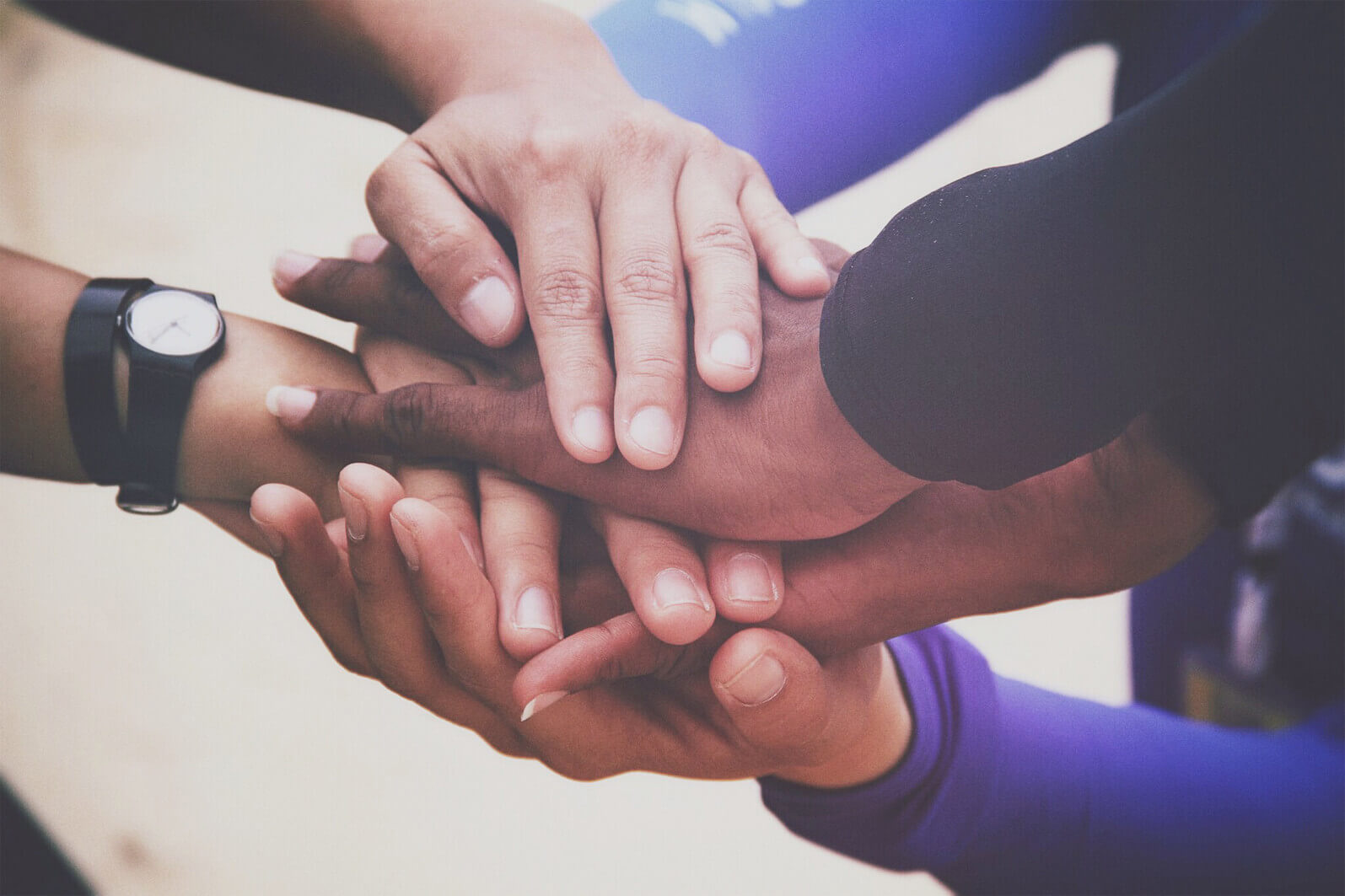 Example Heading
This is a summary.
Your tax free donations to produce Made With Love (the movie) will be handled through Share the Love Media, Inc., a 501(c)(3) tax-exempt non-profit corporation set up under the laws of the State of Georgia.
"We need more movies like Made With Love in this world! It is SO important for all of the Ruby's of the world to see themselves on the big screen! It allows us to all keep dreaming BIG and raising expectations for all the possibilities!!" ~ Liz Plachta – Co-Founder, Executive Director & Proud mama to Ruby – rubysrainbow.org
Even more love from some passionate fans


"To say that David's script works is an understatement. It's a crowning achievement! He has won dozens of screenplay awards and film festivals already. Now THAT's impressive!! After 40 years of casting feature films & television you could say that I have read a lot of scripts. David's script stands toe-to-toe with anything out there. But the difference with David's script is heart. A script that makes you laugh, cry, learn, think and grow is rare. MADE WITH LOVE does all of these and more. I personally plan on supporting David and his team throughout this process because I believe in him, his script, and of course, Jay and the Down syndrome community." ~ Mark Fincannon – Casting Director and Executive Producer on Made With Love
Click the button below to share some love with the world!
The screenplay garners 40+ awards worldwide!
The awards keep coming! Judges from all over the world agree that Made With Love is a film worthy of your support! Join this award-winning project and help share the love! Here are a few.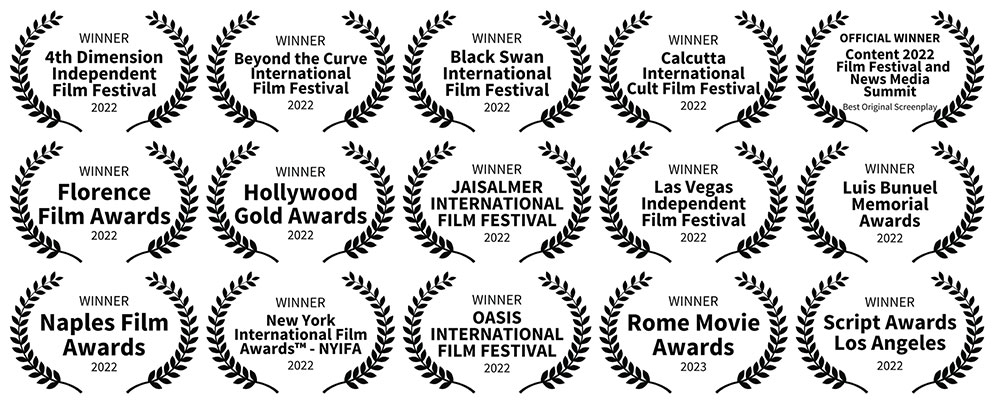 Jay Carr is a multi-talented artist and actor who is primed and ready for his first starring role in a major motion picture. Jay was adopted by the Carr family and began to learn how to be a Diva in order to keep up with his new sisters. He will tell you that he is always ready to go full Diva mode at the snap of a finger. Jay loves to color and is one of the most prolific Sharpie artists you've ever seen. He is also a member of an award winning cheer squad, a part-time hair stylist and owns his own feet rubbing business.
Your donation will change lives!
Individuals with Down syndrome have more than enough helpings of love to go around. Our hope is that this film will not only give people a taste of that love, it'll keep them coming back for more.
Raise the level of acceptance and appreciation for individuals with Down syndrome.

Somewhere around 75% of Down syndrome pregnancies are terminated. That's staggering. And it's mostly due to a lack of knowledge from people who haven't experienced what someone with Down syndrome is actually like. How much they can do, how much they can give, and how much they can love. 

Give the world something it could use more of right now: Positivity.

Only 15% of adults in the U.S. claim to be happy with their lives. Compare that to the 99% of individuals with Down syndrome who say they are. Now imagine the impact that 99% can have on everyone they come in contact with both in person and on screen.

Raise the level of representation in movies of those with Down syndrome.

One in 691 babies in the U.S. are born with Down syndrome. That's a lot of love! Surely, they deserve to see themselves on screen, too.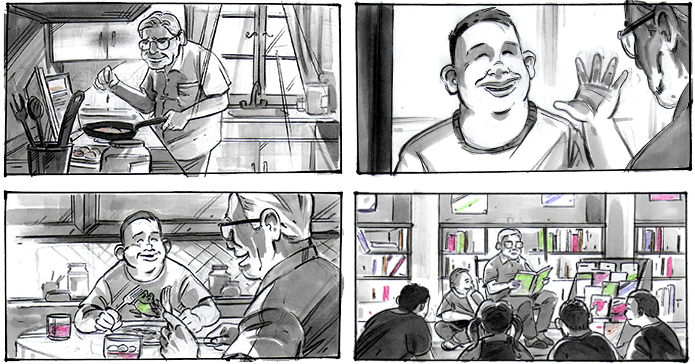 David & Jackson Hughens are an unstoppable father and son filmmaking duo. With David's impressive background as an award-winning feature film writer/director, who overcame numerous challenges to make his debut film ELVIS' GRAVE at a young age, and his extensive experience in sales and marketing, he is perfect to guide this film project to victory. Meanwhile, Jackson has proven himself as a talented and creative force to be reckoned with, starting out as a popular YouTube personality with a viral video that has amassed over 15 million views, and continuing to refine his skills through work at Warner Media and as an assistant editor on feature films. Together, they are a formidable team that is poised to bring their unique vision and dedication to the big screen.

"Made with Love… is exactly how this film will be made… and it will also spread love… how many shows do that nowadays? This film will lift your soul & fill your heart… and make you think about your life and the choices we all make." ~ Kirk B.R. Woller – Actor – Gaius on The Chosen & Acting Mentor – TheWOLLERtechnique.com
The Story Behind The Story
David and Jackson first met Jay after David's family friend Dawn Carr adopted him about nine years ago. It was love at first sight. Jay, David and Jackson would spend hours coloring together and developed a strong friendship. Jay kept telling David and Jackson he wanted to be a movie star and they should make a movie about him. David finally had an idea for a story and began writing with the encouragement of fellow writer/director Chris Dowling who wrote and directed Where Hope Grows. The finished script has gone on to win numerous awards at film festivals around the world. Now YOU can help raise the budget to shoot the movie and make Jay's dream come true!
The Story
Burt Morrow is a jaded old teacher who has been looking forward to retirement for years. No more ungrateful students. No more apathetic colleagues. No more struggling to reignite the passion to shape young minds. Now, the days are his and his alone, and he's going to use them to focus on a new passion: opening a café. But when Jay, a young neighbor with Down syndrome, insists on helping out, the two form a friendship that compels Burt not only to change the way he sees the world, but to reexamine his role in it.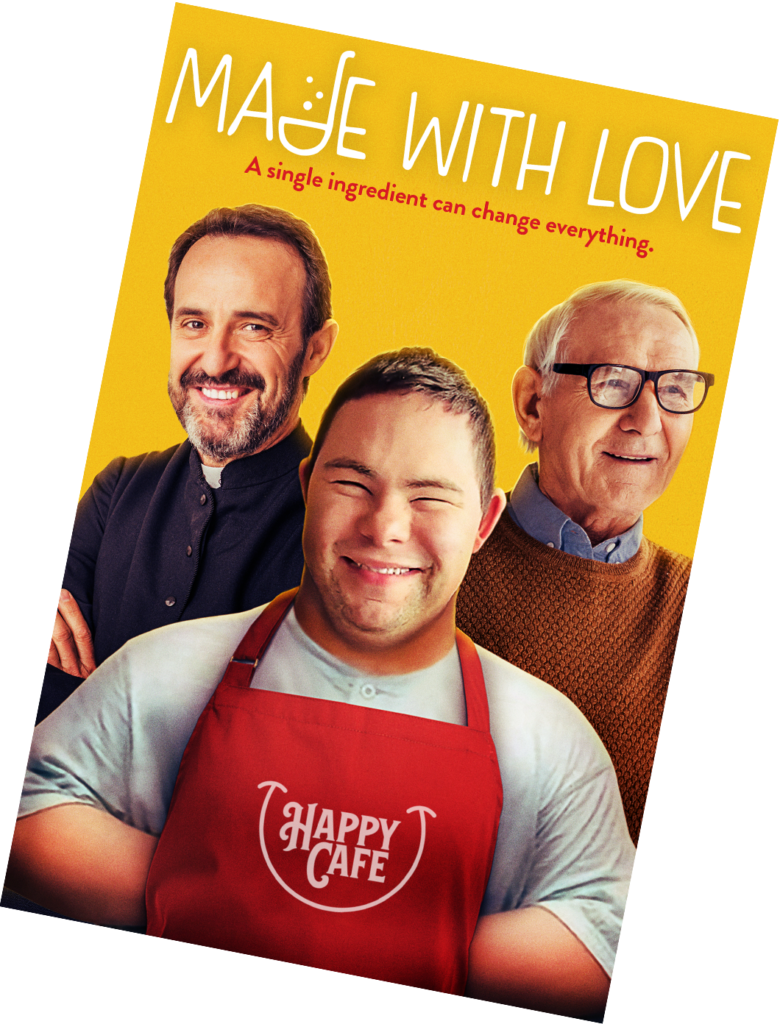 Click the button below to make a difference today!
"David Hughens has spent time immersing himself in the Down syndrome community to understand their personalities, strengths and desires. Made With Love encapsulates these qualities through an authentic, heartfelt script and the actors with Down syndrome who will reveal their fantastic human qualities. Made With Love NEEDS to be made to encourage us to validate, appreciate and integrate the gifts people with Down syndrome bring to the world. And to bring attention to the high termination rate of Down syndrome pregnancies. Like the Down syndrome community, Made With Love, will bring us all UP in love!" ~ Dawn Long – Actress – Lifemark
"Jay is a superstar and I love the heart that David has put into the script. I can't wait to see the story brought to the screen!" ~ Chris Dowling – Writer/Director of Where Hope Grows
Comparable Films
Our goal is to produce a Hollywood quality feature film that would reach a large audience worldwide. Your donation will help us realize our ultimate goal of raising $2 million to shoot the film. The movies below are examples of the type of quality and story we are going for – The Peanut Butter Falcon, UP and Where Hope Grows.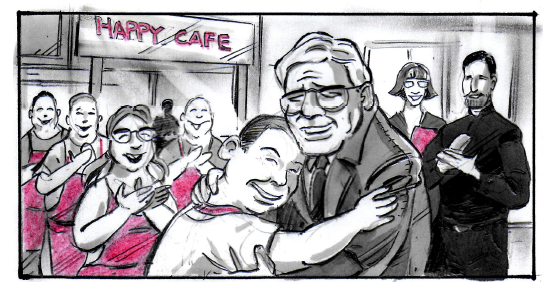 "This is a heartwarming story that is sweet as candy. The two main characters' journey is sure to capture the audience's hearts. It's exciting and refreshing to see a script with such a positive outlook on a situation like this. It will have broad family appeal and entice a wide range of viewership."
Getting Some Love in the News
Click the images below to read the glowing press about Made With Love.
Other Ways You Can Help
Donate your voice. Help spread the word by sharing the love on any or all of your social media platforms. Click the icons below to check out our social media pages!
Click the button below to be part of the Made With Love movement!